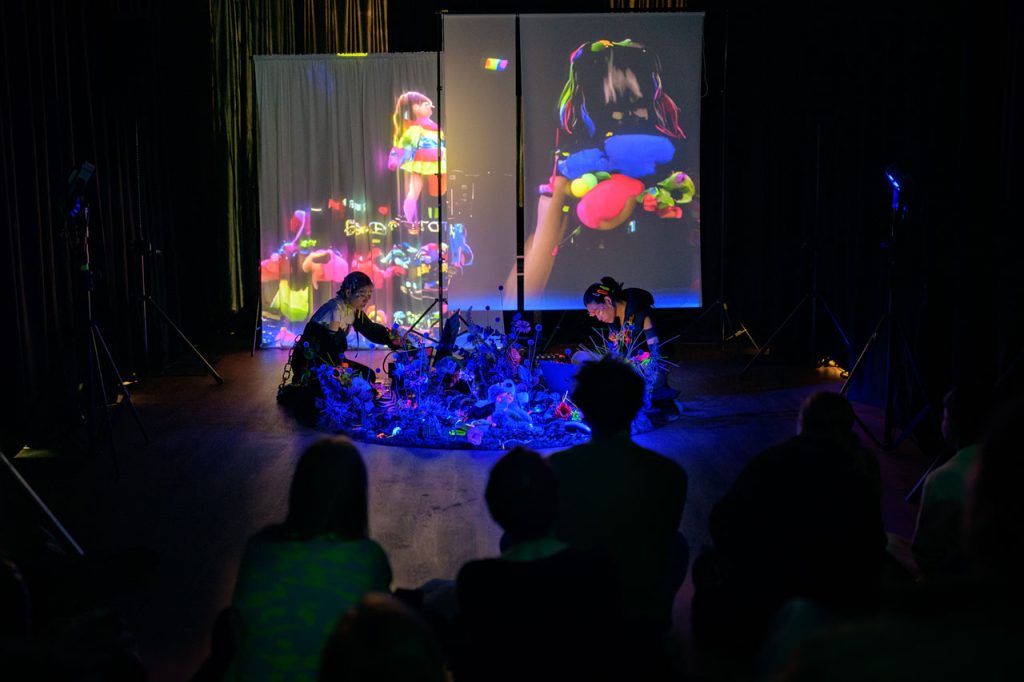 Fantasia Realism (2022)
20′, live performance with a projection.
Created and co-directed by:
Soyun Park & Wellsgoodness (Inwoo Jung)
Costume & stage props design: Mika Schalks & Luka Dortmans
Florist: Serena Kim
Makeup & hair: Mika Schalks
Research assistant: Cailean Finn
Fantasia Realism is an audio-visual live performance experimenting with surrealistic experiences through the use of Artificial Intelligence. Drawing on the methodology of early 20th-century surrealist artists who used non-linear narratives as a way to explore pure unconsciousness, the artists used AI to develop the script of the performance using reality-based input words.
In this project, a machine learning system trained on fictional stories such as fairy tales, horrors and thrillers is used to generate a composition of visual and sonic material which the two artists then manipulate live in a theatrical performance.
The audience is invited to experience sensory stimulations such as a strong earthy scent and misty fog when entering space. This captivatingly submerges them into the 20 minutes of fantasy and eerie, fictional dreams.
---
Commissioned by iii workspace at their artist research residency
Premiered at Rewire Festival, Proximity Music: Sensing after Thoughts
Supported by Arts Council Korea (아르코, Arko)